Jinn, 2014-2018
Jinn — Jinn is a choreomusical work, set in the desert of Rub' al Khali, exploring dance and music in the United Arab Emirates, and exchanges between Islamic and Western cultures.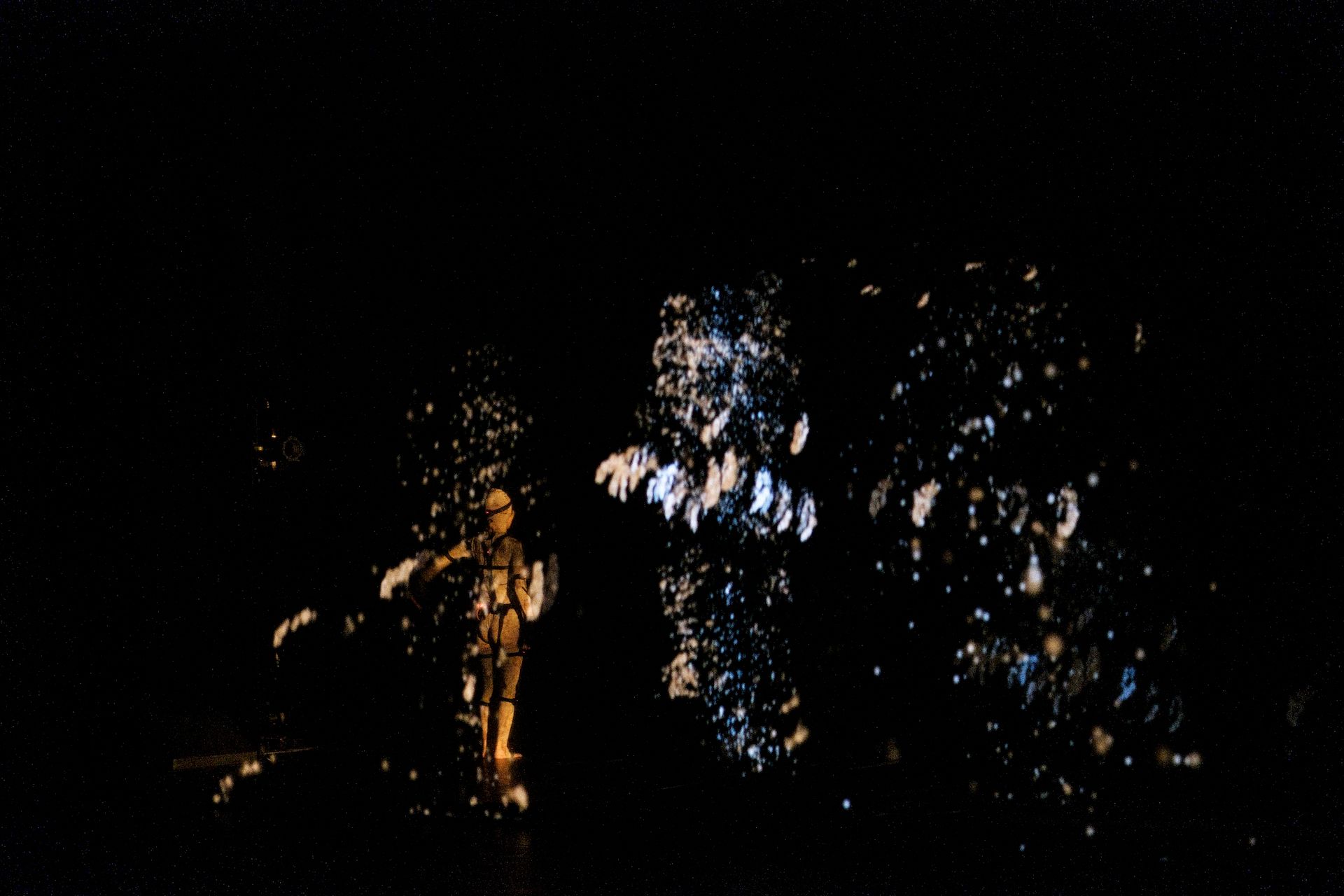 On Wednesday 10 October 2018, Kirk Woolford, Reader for Digital Media Arts at Surrey University, and Carlos Guedes, Associate Arts Professor NYU, premiered their new piece, "Jinn" at NYUAD Arts Centre's, in Abu Dhabi.
Using live motion capture, virtual puppetry, live musicians and a multitude of sand, Jinn is a choreomusical work exploring the presentation of Western performance in Arabic cultures. The Arabic term 'jinn' refers invisible, sentient beings, of scorching winds and a smokeless fire. Before Islam, they were worshiped as spiritual protectors not only in the Arabian Peninsula, but also in neighbouring areas. For this performance piece, the collaboration draws inspiration from the sound of movement in the desert and images of Jinn in Arab culture.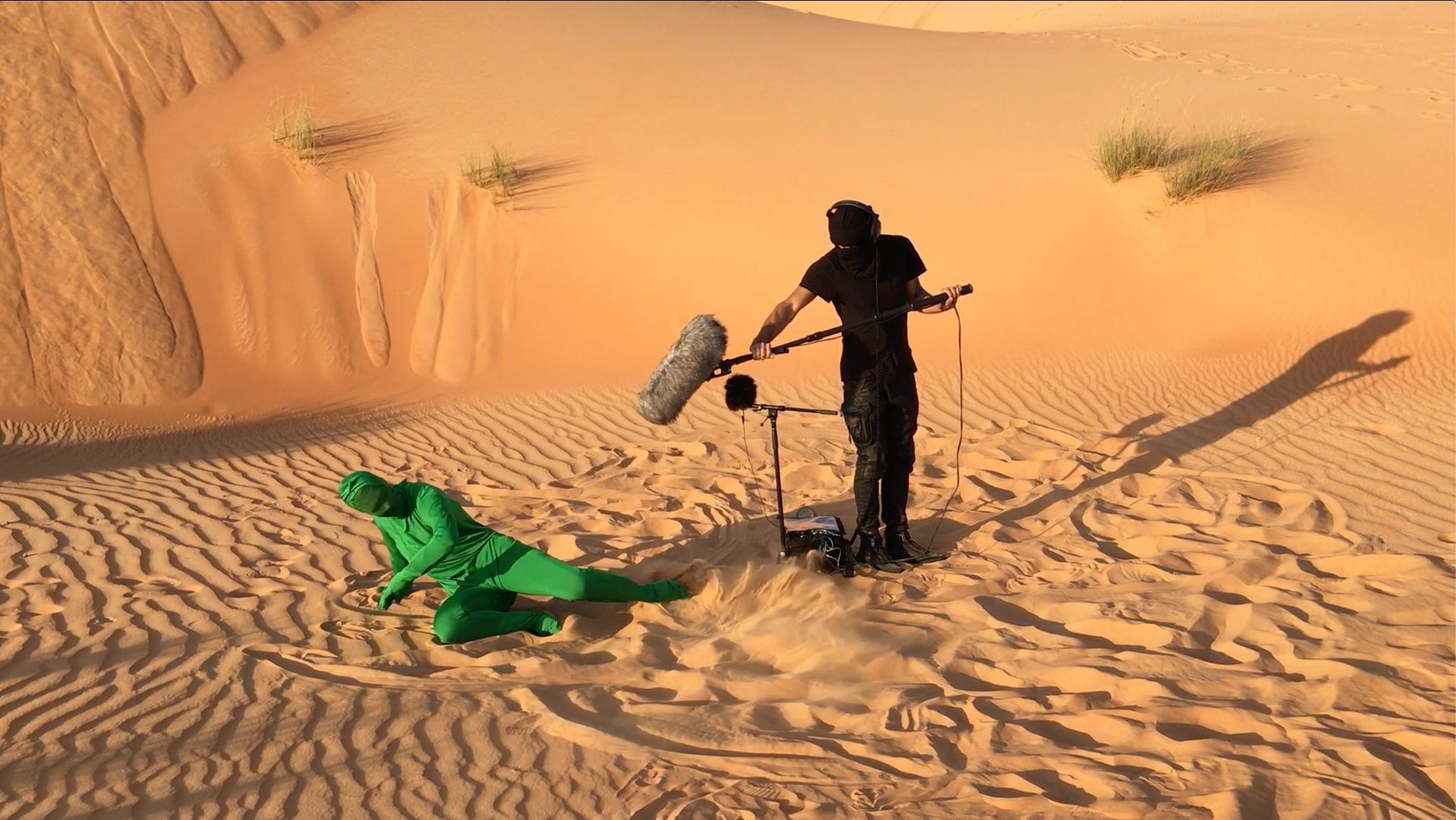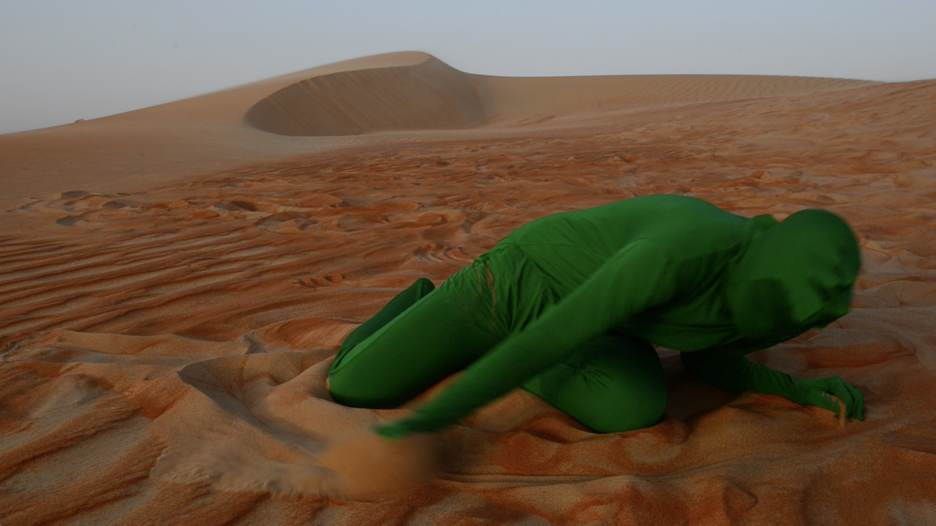 NYU's agreement with the Emirate of Abu Dhabi to create NYU Abu Dhabi is the outcome of a shared understanding of the essential roles and challenges of higher education in the 21st Century and a common belief in the value of a liberal arts education.
Through Jinn, we wanted to present a wider Western culture to Emiratis. We've adressed constraints of showing the female form in a Muslim culture, by ultimately creating a dance piece without a dancer: removing the physical body, and leaving just the sound and trace of the movement, and transforming the performers into creatures of sand and fire.
Jinn is set in an area of the Abu Dhabi desert known as the empty quarter. It explores the sound of human movement in this environment, as captured by video, audio, and motion recording devices. The piece combines dance, live music performance with multichannel sound diffusion, motion capture and computer-generated graphics.
Guedes and Woolford have developed creative works addressing the perception of human bodily motion since 2003,in pieces such as Will.0.w1sp (Woolford & Guedes, 2005) and Côr (Guedes, Ula li & Woolford, 2003)
More information is available at the NYU Abu Dhabi Arts Centre website at: https://www.nyuad-artscenter.org/en_US/events/2018/jinn-carlos-guedes/
Animation: Kirk Woolford
Music: Carlos Guedes
Choreography & dance (live): Kiori Kawai
Choreography & dance (video): Nella Turkki
Flutes & voice: Cristina Ioan
Cinematography: Saguenail
Lighting design: Simon Fraulo
Costume design: Judi Olson
Marimba, vibraphone, & glockenspiel (recording): João Dias
Sound recording & technical assistance: João Menezes
Stage Management: Tegan McDuffie